OECTA Beginning Teachers Conference
Join me on Twitter!
Please feel free to use this presentation – click on the Presentation Icon below.
Media Smarts InfoGraphic: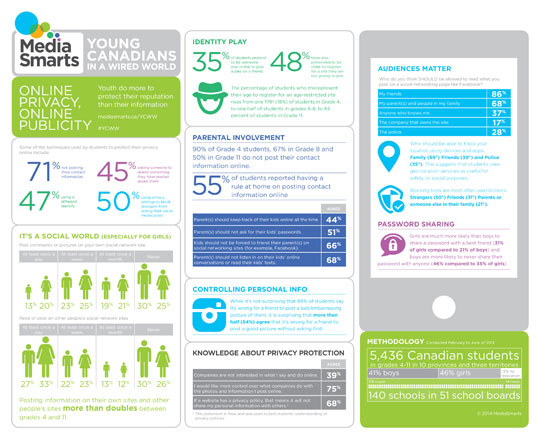 CCSDL Presentation – Bring Your Own Device



Practical Implementation of BYOD for Teachers
Merely mentioning the four letters 'BYOD' in a staff room sends a shudder of unease through most teachers attempting to keep pace with their students' digital demands. Though districts have acknowledged the important need to provide ubiquitous access to wi-fi across their regions, the implementation of BYOD must come partnered with a precise plan that spans over a defined period of time.
These past two years our team has been planning, designing and delivering PD to prepare as many teachers willing for BYOD implementation.. Our work lies in supporting our staff as our students bring in their own devices, and began in September of 2012.
Our first order of work was to determine a practical timeline for the implementation of BYOD as a school board. Make note of this because, implementation as a Board may not necessarily look the same as the classroom. In order to consider any type of timeline, the team and our senior leaders needed to agree on what BYOD would look like at the end of our implementation period. I could easily argue that the goal-setting discussion was not only essential but it was also the most difficult. As a team we decided to approach this project using Dr. Ruben Puentedura's model of professional development for the integration of technology – the SAMR model.
The model chosen, we then decided to roll out BYOD over five years. In the first year our success criteria was based on the beginnings of a cultural shift rather than a hardware explosion. Our first year's success criteria was for teachers to simply allow their students to bring their devices into the classroom. Overcoming the reflex reaction to terminate and confiscate would, in our minds, be a powerful start to the implementation of BYOD. As a team we then haggled back and forth trying to define other success criteria for year one. We eventually came to three additional goals for year one: To promote the device as an organizational tool that may replace a written agenda, to use the device's browser for research and finally to use email for work submission if the teacher was comfortable.
I know what you're thinking: What about an LMS or Cloud storage or Blogs, Wikis and Podcasts? Where are those tools in year one? To be frank, our team came to the realziation that to bring the majority of our teachers along this journey to transformation, we needed to manage our expectations in a more practical way. Depending on the success of year one, the introduction of an LMS and basic Web 2.0 tools would begin in year two and bleed into years three and four. You see, the trick is and always will be to find applications that run on the gammet of devices that will be brought in. There is no simple way around it and if we fail to find universal applications, our BYOD dreams will come to a screeching halt.
Suddenly the chatter amongst the team became electric, filled with excitement for the change and hope that this project's implementation would indeed be practical and proactive. We then focused our vision on year five – what would the final year look like if successful? In our discussions we had determined that once there was an established culture of acceptance, the evolution of the lesson would surely follow. We began to describe a classroom that was physically flexible, allowing students to work in groups, pairs or independently; to research or present; to collaborate locally in the classroom or globally across vast distances! We quickly realized that to achieve that vision, lesson planning and delivery had to change – to actually be redefined. There is nothing more superfluous than when districts spend vast amounts of monies on equipment with a disproportionate amount on the PD needed to show teachers how to reshape their lesson delivery. It was at this point in the meeting that we proposed an alliance with our curriculum counterparts in numeracy, literacy, science, phys. ed., visual arts and student leadership. It was at this point in the meeting that it became clear to us, that in five years, if we were going to be truly successful, our team – that team dedicated to academic integration of technology, should no longer exist.
The unease that slinked its way through the room was representative of a philosophical tug of war – to truly succeed, we needed to accept the redifinition of our own roles.
To be continued..
_____________________________________________________________________
January 25th, 2012
5 Elements of a Successful 21st Century Lesson

As teachers begin to embrace the integration of technology in their classrooms, strategies for success need to be hilighted to sustain momentum. Take a quick read and ask yourself where you stand in the practice of tech integration.
1. Begin With The End In Mind
In the end, we are asking our students to submit a product. Whether it is a picture, essay, podcast or skit – if we as teachers do not share the big picture, expectations and final marking scheme then it won't matter what technology you attempt to use.
2. Have a Plan
Even the most seasoned teachers should strongly consider a formal plan for every attempt of integrating technology into the class. Without a plan and at the first sign of trouble, we often revert to what is comfortable. If there is a plan then at least we may find recourse within it.
3. Accept Failed Attempts and Move On
Even with a detailed, well-thought out plan, some lessons are doomed to fail due to fire drills, school yard fights, in-promptu meetings, tournaments, illness, faulty projector lamp, downed network, sticky keyboard…. you name it! The most important lesson I attempt to impart on my teachers is to accept a botched attempt and move on quickly. Avoid dwelling on what could have been and look forward to what could be.
4. Set Realistic Goals About Classroom Tech
When surveying teachers I am often blown away by the expectations they set on themselves. Most teachers believe that true integration for technology needs to occur on a daily basis for the better part of the day. The reality for any teacher who wants to begin integration of tech in the classroom should be 2 – 3 times a week at about 30 – 45 minutes each time. Start slow and move on – beginning with unrealistic expectations always leads to certain failure.
5. Direct Your Own Professional Development
Look to enrol in courses offered throughout the summer or evenings to develop your knowledge of technology and technology tools for the classroom. There are so many new and interesting courses available specifically for educators, there has never been a better time to engage in professional development even from the convenience of your own home.
________________________________________